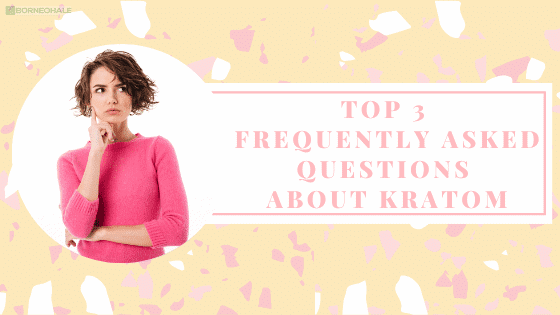 There are lots of questions new users have when researching this plant called Kratom, but the frequent questions below are the most common queries. If you're researching Kratom for the first time, you're well on your way to discovering a better way to live. You've seen all of the media accusations made against Kratom, but you're pretty smart and have an open mind. However, you still may have some questions, such as:
1 – The Rumor That Kratom is Addictive
While some people will tell the news media and general public that Kratom is addictive and unsafe, science has debunked these statements. Many doctors and scientists have also reported on different websites across Google (which I won't link to because that just helps them, but these sites are WebMD.com, Health.com, and Drugs.com, just to name a few) that there is really no scientific research available on their sites for an accurate assessment of Kratom powder.
Dr. Jack Henningfield went out on a limb and did his own private study on Kratom and made some great discoveries. This and other great research on Kratom is here.
Dr. Jack Henningfield concluded that Kratom was no more addictive than a cup of coffee in his 8-factor analysis test. By the way, this is the same test the DEA uses to place compounds on the Schedule I drug list.
2 – Is Kratom Safe
One of my friends locally told me he had just purchased "head shop" Kratom powder. I must warn you and let you know that not all Kratom has been tested for your safety. If you purchase Kratom for sale from a new vendor who cannot provide proof of lab testing…move along.
Vendors like Borneohale, who make lab testing a priority for their customers, create a safe environment when purchasing pure and potent Kratom. If a vendor cannot provide the lab tests, keep in mind there are vendors who can and will ensure your safety.
On this note, there are shops who will not test and there have been a few people who were exposed to salmonella in their Kratom. Safety must be first when it comes to legitimate Kratom vendors and we need to eliminate those who bypass the lab testing. Watch below as scientists and doctors like Dr. Andrew Kruegel explain why the assumptions about Kratom are wrong.
3 – Can Kratom Help Me?
Naturally, this is one of the first questions when considering Kratom. Actually, this is probably the major reason you are doing so much research on this botanical.
There are millions of Kratom consumers all over the country. Each of these consumers has had their own hurdles and difficulties in the beginning and became fed up with solutions, or rather non-solutions, that were available mainstream. Eventually, Kratom was found and a path to wellness soon followed.
Either way, the possibilities are endless with Kratom and we would love to invite you to try this for yourself. Make sure you get a broad sample so you can ensure your body is exposed to each strain of Kratom from the start. The reason for this is because some strains of Kratom you won't like, and others you will. Make sure you don't stop just because the first order didn't meet your expectations. It is highly possible you haven't found your strain yet. When you order a broad spectrum of Kratom you give yourself the opportunity of learning what your body likes.
In Conclusion
There are many people who are fighting the good fight with a cup of Kratom in their hands. There are lots of questions new users have when researching this mystery plant called Kratom, but those are the Frequently questions about kratom.